Mamlouk Guard Tower
Of the scores of medieval guard towers that once formed an unbroken chain of line-of-sight observation posts along the Lebanese coast from RasNakura in the south to the Nahr el-Kebir in the north, nine still remain in more or less recognizable form today.

These nine are so evenly distributed that Beirut residents making a Sunday trip to any point above Junie (20 km. north of Beirut), or 14 km. below Sidon can visit at least one of the lonely watchtowers in the course of a trip to other places of greater scenic or historic. interest.

What is the significance of these towers ? Why were they built? Who built them?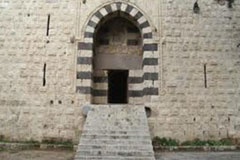 In general it is safe to say that the remaining ones were built or adapted by the Mamluk sultans of Egypt, vanquishers of the Crusaders in the late 13th Century, to guard the Lebanese coast against future landings of Crusader fleets from, Cyprus or Europe bent on regaining their lost Kingdom of Jerusalem.

But this does not exclude the possibility that some of the missing ones and the foundations - of some of the nine extant towers are of earlier origin.

Mamluk Guard Towers of Tripoli

In al-Mina, the port section of Tripoli, stand the ruins of four great guard towers built by order of the Mamluk sultans of Egypt to defend their inland city of Tarabulus from sea attack.Originally there were seven towers, three have practically disappeared. They were seen by voyagers during their sojourn in Tripoli many years ago and mentioned in their travel accounts.Of the existing strongholds the "Tower of Sheikh Affan", so-named because the mausoleum of a high official of Tripoli was built on its south side, has been covered and disfigured by modern structures and is hardly identifiable today.
Bourj as-Seraiya, used by various public administrations of Tripoli, is now incorporated into the city's modem gendarmerie building. Originally it was a square tower and several column shafts are visible in its walls. The lower story presents a vaulted ceiling dating to Mamluk times.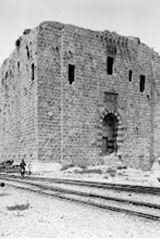 These towers were built over a period of many years by successive Mamlukna'ibs or governors of Tripoli. From the ruins of the destroyed Crusader port city, they collected the necessary building material in order to defend their vulnerable coastline against the Crusaders' return. An Arabic text tells us that Emir Aytmish al-Bajasi was responsible for the construct,on of one of these towers during the reign of Sultan Barquq (I382~1399).

By far the best preserved is Lions' Tower, Bourj as-Saba. Its blue-grey hued limestone walls are studded with sections of granite column shafts used as headers in the construction which come originally from the Roman temples of Tripoli. Its imposing black and white west portal with two projecting granite column shafts is reached today by modern -built steps . An artistic molding in relief surrounds the portal. Above, the commemorative plaque appears to have been wrenched out as well as lion relief carvings which probably gave the tower its name. The lower walls of the tower slope sharply outward at the bottom thus forming a miniature talus. This was done, it would appear, for defense purposes in case of heavy attack. Thus stone missiles, dropped from the machicolation above, would rebound with force against the enemy's first and second. lines.