Hamra Street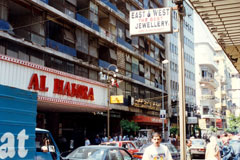 Hamra is one of the main streets of the city of Beirut and was the centre of intellectual activity in Beirut during the 1960s and 1970s due the presence of numerous sidewalk cafes, theatres...
This street is considered one of the Arab region's most dynamic areas, frequented by the Arab region's most prominent writers, intellectuals, artists, poet, dramatist...
Economically it hosts a large number of western chains (including Radio Shack, Gloria Jean's, Caribou Coffee, Costa Coffee and Starbucks), as well as many local shops and restaurants in the addition of a good number of hotels, furnished apartments, libraries, fashion shop...
Hamra Street was known as Beirut's "Champs Elysées" as it was frequented by tourists all year round. Beirut's Piccadilly Theatre was one of the major theaters in the Middle East.
All the way you can see Arts and Crafts Stands: Artists and Amateurs will get a chance to show their works such as jewelry, accessories... and the photography and paintings exhibitions in all the streets with the participation of many artists and painters.