Areas
Balamand monastery – Al Koura
Balamand monastery – Al Koura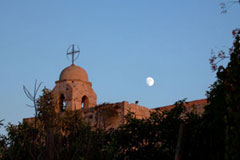 The Balamand Monastery is an Antiochian Orthodox originally Cistercians monastery founded in 1157 in Balamand near Tripoli.

Situated eighty km north of Beirut on a plateau overlooking the blue Mediterranean liesBalamand Monastery, where ten centuries of endeavor to learn and teach have flourished. It is on this ancient site that the Cistercian monks built Balamand Abbey in 1157 A.D. on existing Byzantine ruins after the failure of the second crusade.

The Cistercians abandoned the Monastery of Balamand before the capture of Tripoli by the Mamlouk Sultan Qalwan. Three hundred years after the departure of the Crusaders, Greek Orthodox monks took possession of the monastery.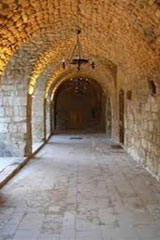 The monastery began with a group of ten monks and soon increased to twenty five. In parallel to their life of prayer, the monks cultivated the soil, wrote and copies manuscripts and hosted guests who sought refuge in difficult times.

During the eighteenth and nineteenth centuries the monastery acquired estates in the whole region of Koura (North Lebanon) and Tripoli (the Capital of North Lebanon). It became an important center for agricultural production.

Architecture

Cistercian Constructions (XII-XIII):
They are organized around the cloister which is the center of monastic life. This square cloister represents the four cardinal points and the four evangelists. Only two galleries are still extant from the Cistercian cloister.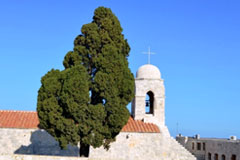 The Church: It is located on the northern side of the cloister; it faces north, and consists of a large apse and just one nave. The church is relatively large, suggesting Cistercian rigor.

The Church Tower: It is the only surviving stone church tower of its kind in all the Middle East. Its shape is square and has a height of 6.5 m. Two superposed vaults highlight make its originality. The dome shelters the edge vault.

The Grand Hall: Also called the hall of the monks, it faces east, and was built in the mid-thirteenth century.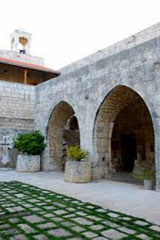 The Church Capitular Hall: This was the hall where monks used to gather to read the rules of the order. It was originally square-shaped and covered with nine vaults supported by four columns. At present the hall serves as a chapel named after Saint George. It includes an apse added in the seventeenth century.

The Lodge: It is a geminate arcade located on the first floor. Columns and materials date to the thirteenth century and the roofless arcade itself was built in the seventeenth century. It is situated between the patriarchal apartments and the cells of the aleppine monks.

Greek orthodox Constructions (XVI-XX):
These relatively late constructions form a certain continuity with the Cistercian buildings both on the level of the material used and in terms of the added volumes. We can detect three architectural schemes belonging to different periods and styles.:

The Aleppine Aisle: It was built by Father Philotheus who was the abbot of the monastery from the year 1652. He built the narthex before the main entrance of Our Lady of Balamand Church, changed the capitular hall into a chapel(the present church of St. George) and built the alcove between the two churches. The aisle consists of a big hall and eight cells. It faces north-west and is located on the first floor.

The Patriarchal Aisle: It contains two aisles: the western or patriarchal and the eastern. In 1713 the abbot father Mikhail built the eastern aisle neighboring the Church of Our Lady of Balamand. In the first half of the nineteenth century, Father Athanasius Qassir from Damascus built the western patriarchal aisle. This latter was used as a clerical school from 1833 to 1843.

The School (XIX-beginning XX century): The last added part dates to the XIX century and is located on the south -western side, on the first floor. In 1901 the Abbot Father EstephanMoqabaa from Damascus built the dormitory. In 1903 Archimandrite MalatiusQattini from Damascus restored the church and built the study hall.

Source: http://www.balamandmonastery.org.lb