Areas
Bnachii Lake Zgharta
Bnachii Lake Zgharta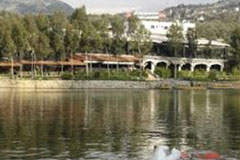 Bnashiis a village located in the Zgharta District in the North Governorate of Lebanon. Its population is Maronite Catholic.

in the past, Bnachii region was just land covered with olive trees and grapevines. Some slopes seemed like small valleys topped with wild trees that carried blackberries and peaches, but this only lasted until it was turned into an artificial lake.

Bnachii lake project was actively implemented in mid 90's. Upon its completion, the entire region donned a new attire of luster and beauty, a thing, which encouraged the owners of restaurants and amusement shops to offer tourists an array of activities upon the lake's magnificent banks.

This distinctive tourist attraction can be reached via Tripoli - Zgharta - Ehden or via Koura Highway. It is located amid slopes filled with lush and trees, which are decreasing in number as construction and tourism projects increase.
| | |
| --- | --- |
| | |

It is worth drawing attention to the fact that the shops and restaurants are located within the scope of Arges and Bnachii municipalities. In a quick view, the long flower-ornamented corniche makes the perfect place for visitors wishing to take a walk, jog, or even rest on its cement seats. One can also enjoy the non-stop small boat rides that provide trips across the entire region of Bnachii Lake.

The amusement parks which are located in close proximity to restaurants are regarded as the best place for kids' entertainment and birthday parties. There's also a very old horse wagon for those who wish to take a short promenade down the road adjacent to the corniche.