Sidon Sea Castle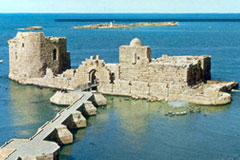 The Crusaders built Sidon's Sea Castle as a fortress on a small island connected to the mainland by a narrow 80m long roadway. The island was formerly the site of a temple to Melqart, the Phoenician version of Heracles. The beauty of the Castle can be seen in old illustrations of it; however, after bearing several wars, it has been damaged and renovated several times. It was partially destroyed by the Mamluks when they took over the city from the Crusaders, but they subsequently rebuilt it and added the long causeway. The castle later fell into disuse, but was again restored in the 17th century by Emir Fakhreddine II, only to suffer great damage.

The castle consists primarily of two towers connected by a wall. In the outer walls, Roman columns were used as horizontal reinforcements, a feature often seen in fortifications built on or near former Roman sites. The rectangular west tower to the left of the entrance is the better preserved of the two. There is a large vaulted room scattered with old carved capitals and rusting cannonballs. A winding staircase leads up to the roof, where there is a small, domed Ottoman-era mosque. From the roof, there is a view across the old city and fishing harbor. The east tower isn't as well preserved and was built in two phases; the lower part dates to the Crusader period, while the upper level was built by the Mamluks.
| | |
| --- | --- |
| | |

There has also been evidence of the old Phoenician city being buried under the sea in the area surrounding the castle: structures of walls, columns, stairways, remains of buildings, statues and cisterns.