Presidential Palace
Historic
Baabda Palace is the official residence of the President of Lebanon. Built during the 1960s it is situated on a hill in the mountain town of Baabda overlooking Beirut and the first president to reside here was H.E. President Charles Helou.
Visit the presidential palace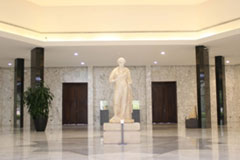 Lebanese citizens and foreigner guests who wish to see the Presidential Palace and get acquainted with the activities of the institution of the President are offered free-of-charge tours
Guided tours are organized on visitors the first Saturday of every month starting June. Looking at the pictures, it is definitely worth a visit.
The first Saturday of every month, beginning in June, will be an opportunity for people to visit the presidential palace in Baabda. Visiting times will be from 9 a.m. until 2 p.m.
The guided visit includes the office of the president, notable halls and the gardens among other locations.
Those interested in making a visit may consult: www.presidency.gov.lb for further details.
At least three weeks are needed to process applications for a visit.